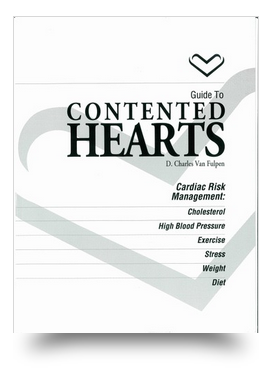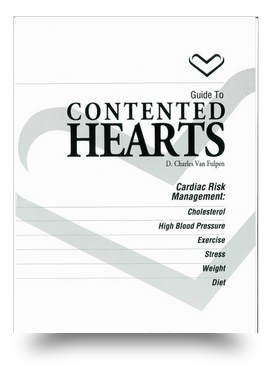 Guide to Contented Hearts is a a reliable lifestyle survival guide featuring powerful tools for personalized health guidance and related cost savings. Author Dianne Charles VanFulpen profiles risks associated with lifestyle related diseases. Mark them off: smoking, excess weight, high stress lifestyle, high blood pressure, high cholesterol and physical inactivity and diabetes. Most of these can be changed most of the time.
With a foreword by cardiologist H.L. Brammell, M.D., founder of the noted Coors Wellness Center, the author works with an expert team to outline ways to link a 10% change in lifestyle to a 20% health benefit. Known risks like too much stress, excess weight, physical inactivity, high blood pressure & high cholesterol are met head on. A former journalist, working with a cardiologist, nutritionist, exercise scientist & behavioral psychologist, VanFulpen focuses on personalized risk guidance facilitated by a Lifestyle Quiz health risk survey. Risk guidance includes: Food Diary & Analysis, menus & recipes, an exercise program that sticks, a Fat Screening Quiz & how to cope in today's world of high stress and higher fear. Short case studies about real people managing change are presented: a millionaire, a poor African American woman, a factory worker and his wife, and a single woman who lost and gained-back 100 pounds, then took it off using Contented Hearts method.
An updated Guide to Contented Hearts is available in paperback form or as an E-Book at the following locations for download:
This is Not A Substitute for Medical Advice.
The information contained in contentedhearts.com and "Guide to Contented Hearts" is not a substitute for regular medical checkups and cannot be used to diagnose your health. Any health-related change, including exercise, that you may decide to make based on information provided in this Website or other Contented Hearts' publication should be discussed first with a health professional.